Join us for A Cause for Celebration 2023 and 4th Annual Hope Awards
Systemic problems require holistic solutions.
Women transitioning from incarceration have paid their debt to society. They can become successful, productive citizens with empathetic support that gives them the power to play the lead role in the story of their lives.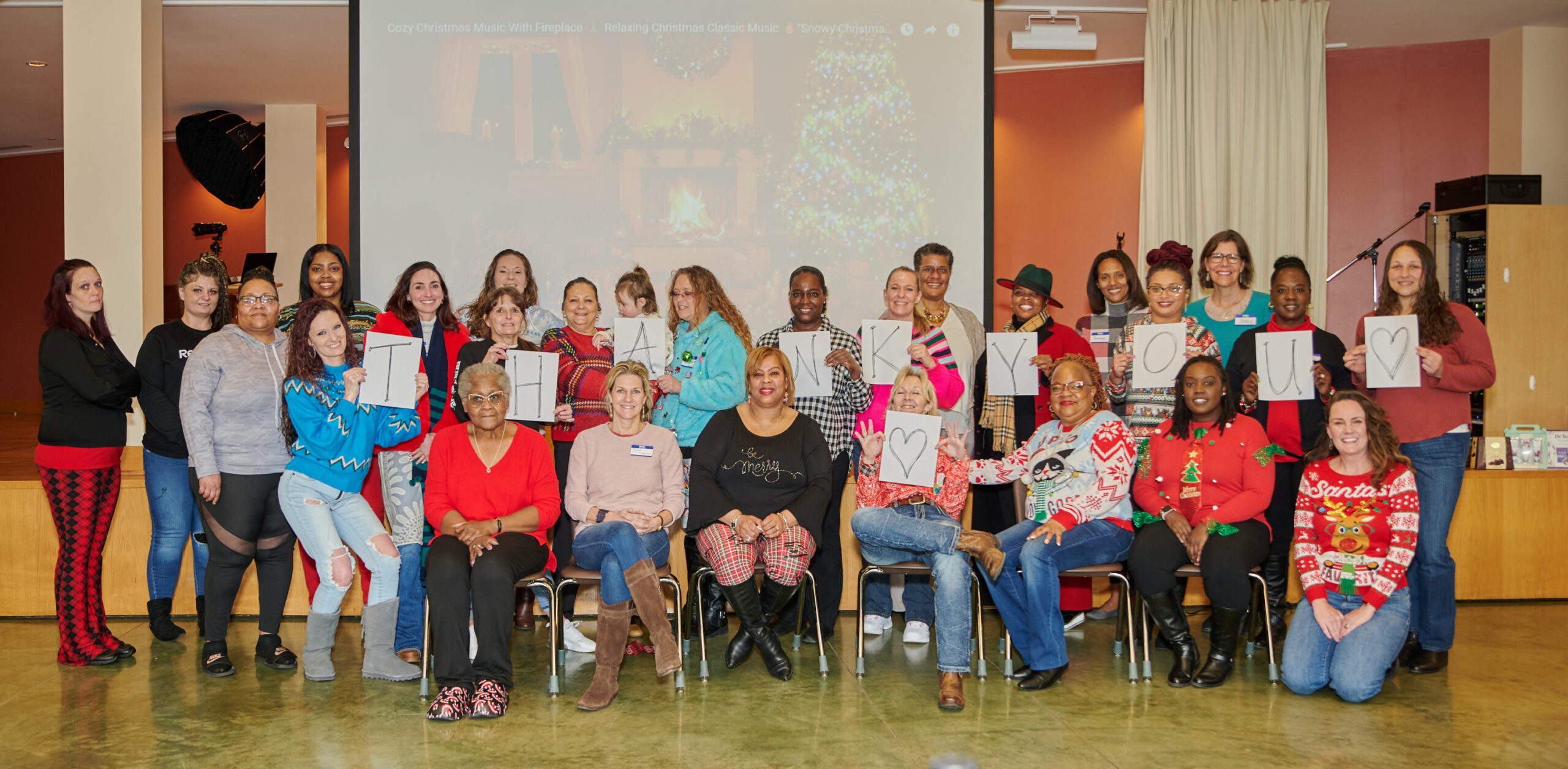 Arise Collective (formerly Interfaith Prison Ministry for Women/IPMW) is a  501(c)(3) non-profit organization based in Raleigh, North Carolina whose mission is to equip justice-involved women with the tools and support they need to heal, grow, and thrive, both in prison and in the communities to which they return.
We have the privilege of walking alongside women who are saying "yes" to claiming freedom. View highlights from our women's stories below, and read the full stories here.
I like freedom, and I wear it well!  I don't think that freedom really hit me until I was out of the prison doors. Yes, there were a few little choices in prison, such as what religion to practice, and whether to take my meds…but this is different.  What I like about it is that I can go out whenever I want to go out.  I have those choices. I have those rights.  I've learned that freedom also does have its boundaries because you do have to play within the rules.  But I like having the freedom to play by the rules.  Being free to speak, to share my experience, strength, and hope with others on the outside is what is most important to me now.
My journey to true freedom began in 2011 when I arrived at the Raleigh Unit of North Carolina Correctional Institution for Women. I had already served 20 years of a life sentence, and I was excited to be at a minimum custody camp. I immediately went to the Hope Center and became active in anything I thought would help me understand where I was, how I had gotten there, who I was, where was I going, and most of all whose I was. Through the joint effort of the prison and Arise Collective, many programs were brought in, and fantastic Chaplains were there to guide me in the direction God had for me. I began to grow and walk toward freedom.
… now I say I am free, I want to help other women experience freedom too.  I have been through a lot in my life.  Not only substance use and incarceration.  There isn't much I can't relate to.  If I can encourage one woman to walk in her own freedom I would encourage her by saying:
We are fighters and we have to fight for the things we want.  The fight will be hard sometimes, but the reward will be well worth it.  Don't fear, don't allow shame to grip you, and accept help when offered.
Freedom to me is just taking every day as a gift and making the most out of it.  Living it to my fullest potential.  Community is very important to me, and I believe that a lot of my success is because of the community I have in my life.  I have mentors, friends, instructors, and organizations – they've all been instrumental in easing the transition and helping me stay focused on setting my goals and achieving my dreams.  They hold me accountable.  When you're incarcerated for all those years – or even a little time – when you have that sense of freedom, you need someone to hold you back a little, so you don't go absolutely crazy with it.
I am free to dream and have the courage to carry it out. I am free to take healthy risks and live a life of abundance … a normal life of integrity and dependence on God. I am free to be a great mother, friend, and servant to the community. Now I am free to share my past and not be bound by shame or the fear of people judging me.
Women are the fastest-growing segment of the prison and jail population.  Even though they have paid their debt to society and can become successful, productive citizens, far too often they face significant barriers to obtaining jobs, housing, social services and more. Arise Collective believes that systemic problems require holistic solutions.  We strive to interrupt cycles of poverty, addiction, and violence by providing much-needed resources, a helping hand, and community for incarcerated and formerly incarcerated women.
Allowing women an opportunity to meet their spiritual and religious needs, as well as receive trauma-informed training and care, both in prison and in the community.
Partnering with local colleges, universities, and organizations to provide evidence-based life skills, job skills, and emotional literacy training to women pre-release.
Supporting women as they establish new lives after incarceration and develop the tools necessary to forge a different path for themselves and their children.
Raising awareness and training the interested public about the issues surrounding incarceration and the many barriers that people face upon release.
of women in prison will be released
one day
the percentage increase in women's incarceration since the 1970s
the number of women in prison with either mental health or substance use issues
Arise Collective is a 501(c)(3) non-profit organization that relies, on the treasure, time, and talent of generous donors like you.  Your donation will help fund and/or support the much-needed services we offer to incarcerated and formerly-incarcerated women. Find out the many ways you can help.