Stitching Stories is a 25-foot-long prison awareness quilt, crocheted by women incarcerated at North Carolina Correctional Institution for Women as they survived COVID in prison. These artists believed that the crochet arts had the power to make a positive difference in society, and they began to envision a quilt that might tell the stories of the women around them.
The quilt was finished just before Mother's Day 2021. North Carolina prisons were still under COVID restrictions, and the quilt became a way for the women to honor each other on a Mother's Day that marked more than a year of being unable to physically see their own children and families. 
In July 2022, Arise Collective was selected as a semi-finalist for the Z. Smith Reynolds Foundation's Inclusive Public Arts initiative, a partnership between them and The Andrew W. Mellon Foundation. This initiative aims to lift the voices of those whose stories are not commonly told throughout our state. We have proposed to transform the Stitching Stories: A Prison Awareness Quilt, into a permanent and durable art installation that can travel the state alongside the original quilt, to spark community engagement and dialogue with and about incarcerated and formerly incarcerated women.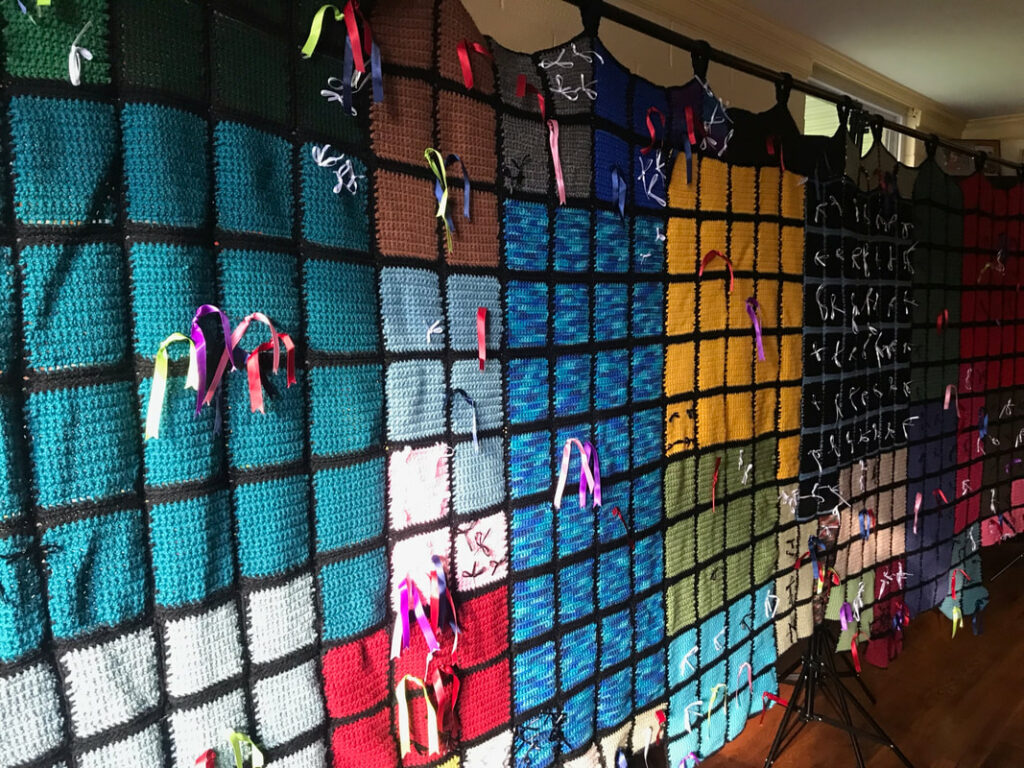 The squares and ribbons on the quilt tell the stories of what women in prison have survived: addiction, sexual assault, COVID, domestic violence, mental health issues, separation from children, and the loss of loved ones while incarcerated. Listen as each of the four primary crochet artists shares her personal survival story and how it relates to the quilt.

While we hope the quilt will speak for us and our friends, we also wanted to take the time to tell you our own stories: the stories behind the ribbons, bows, and squares that you see here. Click on the links below to listen to our individual story in our own voice.​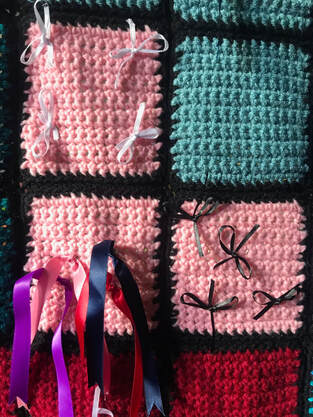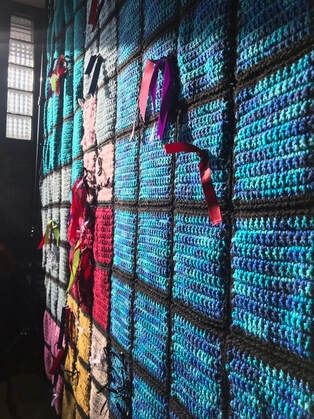 Stitching Stories is available to be displayed as an exhibit or for a one-time event.  ​To learn more about hosting or to book the quilt, please contact Chaplain Elisa Rosoff: erosoff@arise-collective.org.